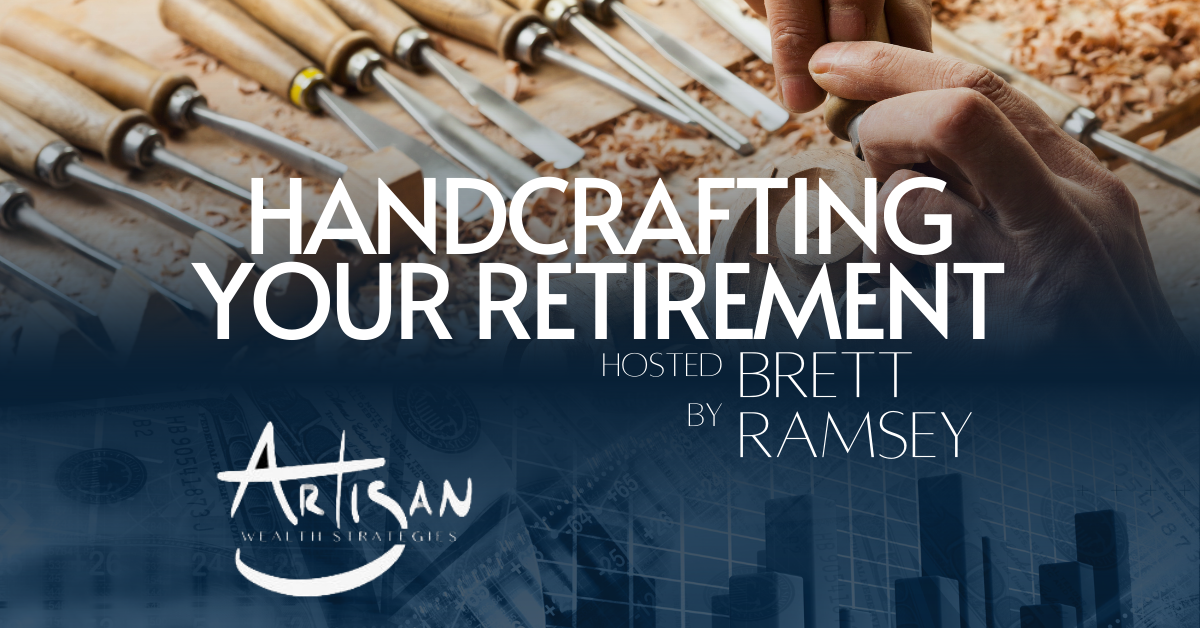 The Client Experience: Your Retirement Vision (Ep. 3)
At Artisan Wealth Strategies we're always thinking about how to elevate the retirement planning process for our clients.
When it comes to your retirement vision, it's important for us to create a process that takes into account your income and your health. 
In this week's episode, Brett Ramsey will talk about his streamlined process and how he's been able to build a strong client experience through clear expectations.
Tune in to learn more about what to expect from the retirement planning processes at Artisan Wealth.
Brett Discusses:
The 3 part service model Artisan Wealth Strategies gives their clients in retirement that makes every experience unique

What HALO by Genivity is and how this type of health analysis can help you

The tax component of retirement and how to understand it

What it means to practice your retirement
Resources:
Connect with Brett Ramsey: 
About Brett Ramsey CFP, MBA:
Brett is one of our owners and LPL financial advisors here at Artisan Wealth Strategies and has been in the financial industry for 20 years. He specializes in retirement income planning, as well as comprehensive financial planning, and enjoys guiding and supporting his clients through major financial decisions in their lives. 
Brett attended Case Western Reserve University, where he received his undergraduate degree in Mechanical and Aerospace Engineering. He went on to attend Duke's Fuqua School of Business to receive his MBA. While working as an executive at an insurance company, Brett began to realize how much he enjoyed working directly with his clients and wanted to be able to provide more comprehensive support and guidance to help them aim for their goals. 
So, he received his CFP® certification to become a financial advisor, and soon began helping clients on their financial journeys. In his 20 years in the industry, he's worked for major financial corporations such as Sheridan Road Financial, Novus Wealth Management, and Nettworth Financial Group prior to establishing his own financial planning practice. Now, he provides his clients at Artisan Wealth Strategies with personalized service and a wealth of knowledge accumulated from his decades of experience.
Raised in a small town in Arkansas, Brett credits his father with teaching him the value of a dollar from a very young age. Every night after work, his father would watch the nightly business report on PBS, and Brett would join him. Through those nightly reports and his father's guidance, Brett has always had an innate understanding of finances and how to manage money well.
Brett now lives in Carmel, Indiana, with his wife, Christine, and their three children—Maryrose, Caroline, and Grant. His family is his favorite pastime, but he's also an avid athlete. He's run several half marathons and a full marathon, loves to golf, and enjoys coaching others as well.
An active member of his community, Brett has organized many educational classes on financial topics such as budgeting, eliminating debt, and planning for retirement, and has volunteered and taught similar classes for many non-profit organizations. Above all, Brett is committed to educating others—especially his clients—to become confident in their own financial decisions.
Securities and Advisory Services offered through LPL Financial, a Registered Investment Advisor. Member FINRA & SIPC
The opinions voiced in this material are for general information only and are not intended to provide specific advice or recommendations for any individual.
Podcast: Play in new window | Download | Embed
Subscribe: RSS